The fashion industry has come a long way in men's wear, and unlike the last decade, we have a lot more options available to males to choose from. Before we go any further, it is important to choose only natural fabrics and organic products for men's fashion, so it is comfortable, suitable for all weathers and occasions, and it can make them look as dapper as ever. Let's pick the top five new trending ethnic wear for men to look forward to this season-
1. Waistcoats with linen kurta for men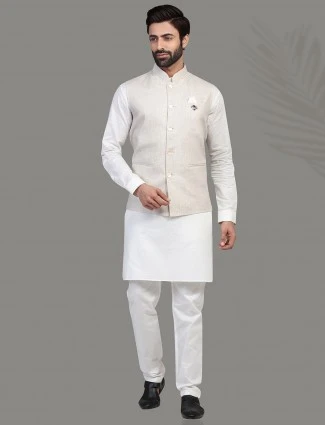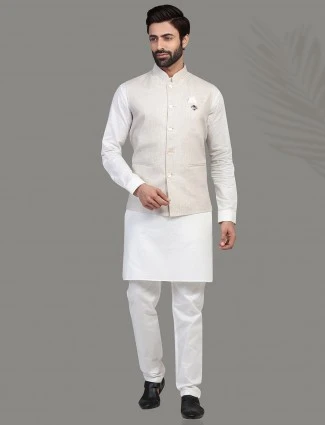 It is not wrong to say that Nehru jackets are a forever piece of clothing to have in your wardrobe. Waistcoats can be coupled with a simple, plain kurta. Waistcoats can be made with brocade, silk or even linen fabrics. Linen kurta for men can be paired up even with a woolen waistcoat in the winter season.
Another way of wearing waistcoats is to design with tie and dye patterns, contemporary designs for the jackets with solid kurta and pairing it up with churidar, salwar or even simple pajamas.
2. Asymmetric Kurta
Amp up the style of traditional, ethnic kurta for men with asymmetric kurta. An asymmetric kurta simply stands for a kurta with different cuts in the front, it can be diagonal, draped with diagonal lengths or paired with a Nehru jacket to add some edge to the look. An asymmetric kurta is easy to design and can also work in different fabrics. You can make silk, mulmul or linen kurta for men.
3. Glorious Chikankari Kurta
Chikankari fabric is loved by both women & men. Chikankari fabric adds luxurious and everlasting charm to the look. Subtle & decent, chikankari kurta never goes out of style. You can get the fabric in Chikankari of your choice and get it stitched according to your preference.
4. Designer Drape Kurta
Bollywood brought to home with these designer drape kurtas, these kurtas are innovative styles that can be added to your wardrobe. This style of kurta breaks the stereotypical kurtas.
You can pair up your draped kurta with a waistcoat or a jacket, and keep the combination with a printed jacket, mulmul, or linen kurta for men and a plain white churidar.
5. Pathani Kurta Pyjama
Glamorous & traditional at the same time, this kind of dressing adds a lot of vigor and personality to the overall look. Pathani kurta and pajama can be made with cotton or linen fabrics, in different colours- starting from bright solid colours to printed fabrics in contrasts as well.
With a collar neck, 3/4th sleeves and below-the-knee length, the pathani kurta can also be worn with jeans or denim, if you want a casual look or want to mix a contemporary feel. If you want to go all-in with the traditional look, pair a shawl & jutti and voila- you're acing the traditional look at max now.
Just to reiterate, using natural fabrics and curating your outfit with all organic products is a win for both- the environment & you as well. Organic fabrics are suitable even for sensitive skin types, and keep your body temperature balanced. As for the environment, it reduces the burden on resources and is sustainable as well.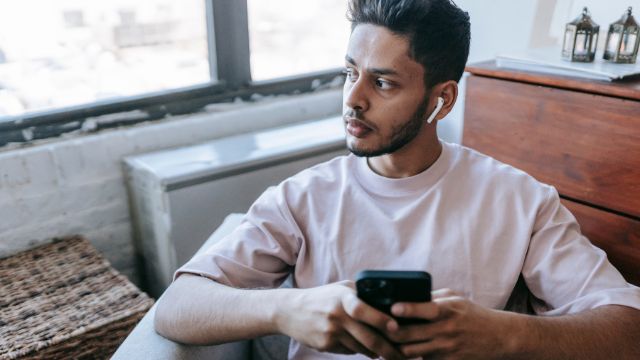 Hello, I'm Kapil Kumar, a seasoned SEO expert and blogger at WinnersList.in. My mission is to spotlight exceptional individuals and organizations across various domains. Through curated lists, profiles, and inspiring stories, I aim to celebrate outstanding achievements and inspire the next generation of champions. Join me in this journey.