We all know how popular the show is and in 2023 it's back with Bigg Boss 16 with all new contestants and here on this page we will know about bigg boss 16 contestants list and who is the bigg boss 16 winner. The show follows the format of the international reality show "Big Brother," where a group of contestants, known as housemates, live together in a specially designed house, cut off from the outside world. Bigg Boss 16 was hosted by Bollywood superstar Salman Khan, who has been associated with the show for several seasons.
Bigg Boss 16 Contestants List
There were total 16 number of contestants participated in the show and their name is as follows:
Sr
Housemates
Day entered
Day exited
Status
1
MC Stan
Day 1
Day 135
Winner
2
Shiv
Day 1
Day 135
1st Runner-up
3
Priyanka
Day 1
Day 135
2nd Runner-up
4
Archana
Day 1
Day 40
Ejected
Day 42
Day 135
3rd Runner-up
5
Shalin
Day 1
Day 135
4th Runner-up
6
Nimrit
Day 1
Day 128
Evicted
7
Sumbul
Day 1
Day 125
Evicted
8
Tina
Day 1
Day 70
Evicted
Day 71
Day 118
Evicted
9
Soundarya
Day 1
Day 112
Evicted by Housemates
10
Sajid
Day 1
Day 106
Walked
11
Abdu
Day 1
Day 77
Walked
Day 85
Day 105
Walked
12
Sreejita
Day 1
Day 13
Evicted
Day 68
Day 105
Evicted
13
Vikkas
Day 69
Day 90
Evicted
14
Ankit
Day 1
Day 84
Evicted by Housemates
15
Gautam
Day 1
Day 48
Evicted
16
Gori
Day 1
Day 42
Evicted
17
Manya
Day 1
Day 22
Evicted
Bigg Boss 16 Winner Name with Image – MC Stan
As we have already shared the information above in the contestants list that who was the winner of bigg boss 2023 season 16 but here in this section you can see the image and grand finale date.
Bigg Boss 16 Grand Finale Date: 12 February 2023
Bigg Boss 2023 Season 16 Winner: MC Stan
Bigg Boss 16 Winner Image
As the grand finale of the show was premiered on 12th February 2023 which was won by the MC Stan while Shiv and Priyanka becomes the first & 2nd runner up of the show accordingly below is the image of season 16 image.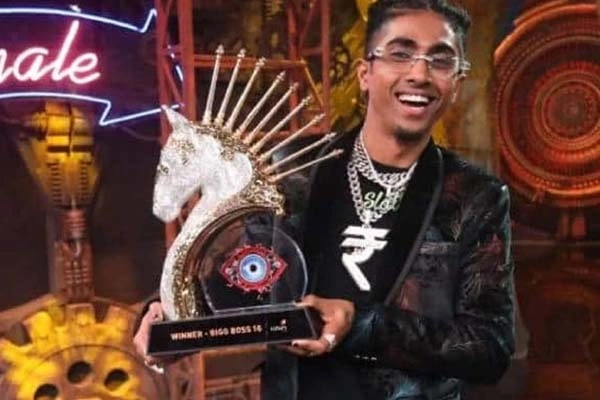 The winner of the show lift up the trophy and won the cash prize of ₹31.80 lakhs, and a car.
Bigg Boss Prize Details:
Winner Trophy
Cash Prize of Rs. 31.80 Lakh
A Car
However if you are interested to know about the winner of previous seasons can visit our web page here "Bigg Boss Winners Past to Present". If you want to know anything about bigg boss 16 winner don't forget to ask it in below comment.