Card games like Rummy and Poker are played by people of all ages and backgrounds in every corner of the world. Rummy is a card game with significant cultural and religious significance in Indian homes, although poker is more commonly played in casinos. However, card game enthusiasts like both rummy & poker equally on online gambling sites.
There are some parallels to be seen between the card games of rummy and poker and poker, but the two are also very different. The ability to play or win at either card game requires skill and strategy.
 However, a game of poker has a very different structure and gameplay from the card game rummy. Because of this, even if a player is familiar with rummy, mastering and playing poker still may prove to be a formidable challenge.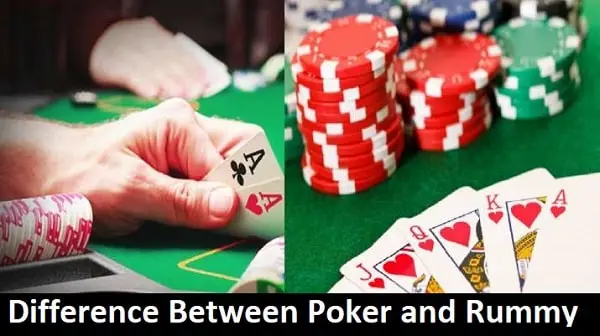 So, if you're new to both games and can't decide which one to dive headfirst into, here's a rundown of the key similarities and differences between rummy and poker.
Origin of Poker
An ancient Chinese emperor is credited for introducing domino cards, the forerunner to today's poker, to his court in the 10th century. It has been conjectured by some historians that poker evolved from As Nas, a 16th-century Persian card game.
Poque, a European card game, plus Pochen, a German card game, were the closest to poker in the 17th century. Primero, a 16th-century Spanish card game, served as inspiration for these games because of its emphasis on bluffing and betting despite having bad hands. The English-speaking colonizers in the Americas took Poque, with its five cards for each player, and renamed it poker.
The modern game of poker may trace its roots back to the 1800s, when it was first played in gambling halls along the Mississippi River. Texas hold 'em and Omaha are the two most popular variants of poker.
Origin of Rummy
There are two competing ideas about where the game of rummy first appeared: China or Mexico, somewhere in the 19th century. The first hypothesis postulates that the card game rummy, formerly known as Conquian, had its start in México in the late nineteenth century. Spanish decks of 40 cards were used in this game, and melding was an integral part of the strategy.
The second hypothesis postulates that rummy evolved from an Asian version of Mahjongg known as Kun P'ai. In 1891, the game was adapted for Western audiences under the name Khanhoo.
The card game rummy is played in many different forms, all of which follow the same basic principles. Gin rummy, Canasta rummy, and Indian rummy are just a few of the many rummy variants that are played frequently.
Poker Game play
Between two and more than five participants, poker is played. Texas Hold'em and Omaha are the two most popular forms of online poker.
Texas Hold 'em begins with each player receiving two cards face down, known as the "hole cards," and the initial round of betting. To respond to the big blind, players can either call, raise, or fold. The flop consists of three shared cards and is dealt face up to all players. After each round of betting, the next two communal cards are shown in order. In a game of five-card draw, the winner is determined by the highest possible hand.
There are two further variations of Omaha, Pot Limit Omaha & Omaha Hi-Lo, that can be played with anywhere from two to ten players. There are five betting rounds (the "preflop," "flop," "turn," and "river") and a final "showdown" round in this 52-card game. Before the flop is dealt, players can choose to call, raise, and fold.
Rummy game play
Rummy is played with a normal deck of 52 cards by two to six players. Different variations of rummy are played for either a set number of rounds or a fixed objective score. After dealing out 13 cards to each player, the dealer will place the remaining cards face down in the centre of the table in a pile known as the draw pile.
Players combine their cards into sets and sequences; at least two sequences, one of which must be pure, must be created. As a turn begins, the first player chooses a card from the draw pile and the last player chooses a card from the discard pile.
One must make the first valid declaration in order to win the game.
In rummy, the most important sequence is a pure sequence, which includes three or even more cards in sequence the entire similar suit. Grouping 3 or more cards from the same suit, comprising jokers and wildcards, to make up for a missing card creates an impure sequence. Gathering together 3 or maybe more cards with the same rank from different suits creates a set.