In the dynamic world of football, abbreviations and acronyms are common, and one such abbreviation that often piques the curiosity of fans and newcomers alike is "WF" and here in today's article, we are going to discuss in-depth about the WF full form and also explore its various interpretations within the context of football.
Whether you're a seasoned football enthusiast or just starting your journey into the beautiful game, this article will provide a comprehensive understanding of "WF". So, let's dive into it.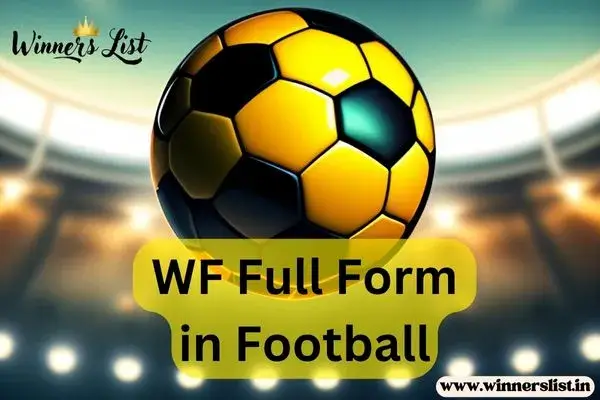 WF Full Form in Football?
The term WF have many uses in Football and we have shared the information about it one by one so that you can understand it's meaning and full for accordingly.
1. Winger Forward (WF):
When it comes to WF the first full form came in mind is "Winger Forward". it's the position integral to many tactical system and playing styles. The winder forwards are those players who occupy wide position on the ground, typically on the flanks. Their primary responsibilities includes following:
The Winger Forward provides width to the team's attack.
Delivering precise crosses into the opponent's penalty area.
Dribbling past defenders to create goal-scoring opportunities.
Occasionally cutting inside to take shots on goal.
Winger forwards are known for their speed, agility, and crossing accuracy. Some renowned players who have excelled in the WF role include Cristiano Ronaldo, Arjen Robben, and Gareth Bale. Their ability to stretch the opponent's defense and create goal-scoring opportunities makes them invaluable assets to their teams.
2. Wide Forward (WF):
The another popular form of WF is known as "Wide Forward." which is quite similar to winger forwards, wide forwards often operate with a bit more central freedom. This position is common in attacking formations where players are encouraged to roam across the front line. The key responsibilities of wide forwards include:
Scoring goals by making well-timed runs and taking shots.
Assisting teammates by providing key passes and assists.
Cutting inside from the flanks to take direct shots on goal.
Players in the wide forward role are known for their versatility and unpredictability. They can challenge defenders by alternating between crossing and shooting, making them a constant threat. Stars like Neymar and Eden Hazard have made significant impacts as wide forwards.
3. Women's Football (WF):
In a broader context, "WF" can also stand for "Women's Football." The growth and recognition of women's football have skyrocketed in recent years. Increased investments, media coverage, and grassroots development programs have played pivotal roles in this progression. Notably, international tournaments like the FIFA Women's World Cup have provided a global stage for female footballers to showcase their talents.
Women's football has witnessed professionalization and heightened competitiveness. Many nations now invest heavily in their women's national teams and domestic leagues, leading to an influx of talent. Players such as Megan Rapinoe, Marta, and Sam Kerr have become icons in the realm of WF, inspiring a new generation of female athletes.
Conclusion:
In conclusion, "WF" in football encompasses various interpretations, each highlighting distinct aspects of the sport. Whether it's the role of Winger Forward or Wide Forward on the field, the remarkable growth of Women's Football, or the global spectacle that is the FIFA World Cup, "WF" resonates with football enthusiasts worldwide.
As you continue your football journey, remember that this sport is a dynamic and ever-evolving universe. "WF" is just one of the many intriguing facets that contribute to the beauty and complexity of football. Whether you're cheering for your favorite team, watching the Women's World Cup, or admiring the skills of a wide forward, "WF" will always have a special place in the lexicon of football. Enjoy the game!