Bigg Boss Season 7, which ran from September 15, 2013, to December 28, 2013, marked a season of twists, turns, and unexpected alliances. Hosted by the ever-charismatic Salman Khan, the show featured 20 diverse contestants who battled it out for 104 days to secure the coveted title and the grand prize. In the end, it was the stunning Gauahar Khan who emerged as the ultimate housemate, showcasing her charm, resilience, and grace under pressure.
Bigg Boss Season 7 Contestants Name List
Here is a comprehensive list of the contestants who participated in Bigg Boss Season 7, along with a brief overview of their journey in the house:
Sr
Housemate
Day entered
Day exited
Status
1
Gauahar
Day 1
Day 44
Walked
Day 45
Day 104
Winner
2
Tanishaa
Day 1
Day 104
1st runner-up
3
Ajaz
Day 40
Day 104
2nd runner-up
4
Sangram
Day 1
Day 104

3rd runner-up

5
Andy
Day 40
Day 101
Evicted
6
Armaan
Day 1
Day 98
Evicted
7
Kushal
Day 1
Day 44
Ejected
Day 68
Day 95
Evicted
8
Kamya
Day 1
Day 91
Evicted
9
Sofia
Day 45
Day 84
Evicted
10
Elli
Day 1
Day 70
Evicted
11
Pratyusha
Day 1
Day 63
Evicted
12
Candy
Day 42
Day 56
Evicted
13
Apurva
Day 1
Day 49
Evicted
14
Asif
Day 11
Day 42
Evicted
15
Vivek
Day 32
Day 38
Evicted
16
Shilpa
Day 1
Day 35
Evicted
17
Ratan
Day 1
Day 28
Evicted
18
Anita
Day 1
Day 21
Evicted
19
Rajat
Day 1
Day 14
Evicted
20
Hazel
Day 1
Day 7
Evicted
BB Season 7 Winner: Gauahar Khan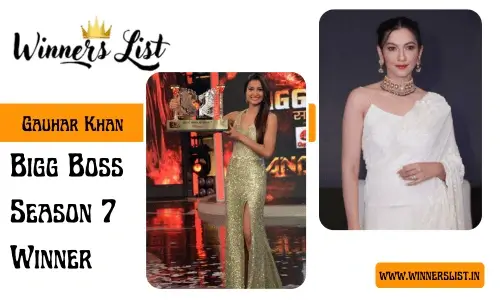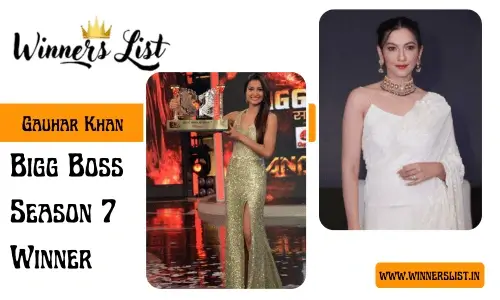 Gauahar Khan, a renowned actress and model, emerged as the winner of Bigg Boss Season 7. Her journey was marked by charm, resilience, and the ability to form strong alliances. Gauahar's graceful demeanor and genuine interactions earned her the respect and admiration of both housemates and viewers.
Runner-Up: Tanisha Mukerji
Tanisha Mukerji secured the runner-up position in the competition. The actress showcased grace and determination throughout her time in the house, forming deep and meaningful connections with her fellow housemates. Her journey in the house was nothing short of inspiring.
Host: Salman Khan
Salman Khan, the ultimate showman, reprised his role as the host for Bigg Boss Season 7. His charismatic presence and engaging demeanor added an extra layer of excitement and drama to the show. Salman's ability to connect with the contestants on a personal level and offer valuable insights contributed significantly to the season's success.
Grand Prize
The grand prize for the winner of Bigg Boss Season 7 was a substantial sum of Rs. 50 lakhs. While slightly lower than some previous seasons, this generous amount still served as a powerful motivator for the contestants, driving them to give their best in various tasks and challenges.
Bigg Boss All Seasons Winners
Throughout the years, Bigg Boss has seen a diverse array of winners. From Rahul Roy in Season 1 to Gauahar Khan in Season 7, each winner has left their mark on the show's history. Here's a quick look at the winners of all seasons:
Rahul Roy (Season 1)
Ashutosh Kaushik (Season 2)
Vindu Dara Singh (Season 3)
Shweta Tiwari (Season 4)
Juhi Parmar (Season 5)
Urvashi Dholakia (Season 6)
Gauahar Khan (Season 7)
Conclusion
Bigg Boss Season 7, under the engaging hosting of Salman Khan, provided viewers with a memorable blend of drama, camaraderie, and strategic gameplay. From Gauahar Khan's charm to Tanisha Mukerji's grace, the season was a roller-coaster of emotions, camaraderie, and competition. With a grand prize of Rs. 50 lakhs and a total of 20 dynamic contestants, the stakes were high, and each housemate brought their unique flair to the show. Ultimately, Gauahar's strong personality, resilience, and grace under pressure earned her the title of Bigg Boss Season 7 Winner, securing her place among the esteemed list of Bigg Boss all-seasons winners.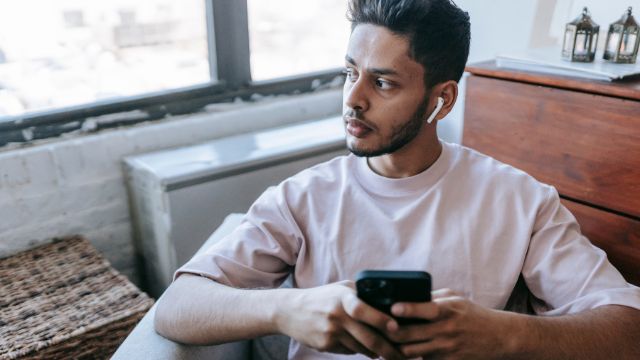 Hello, I'm Kapil Kumar, a seasoned SEO expert and blogger at WinnersList.in. My mission is to spotlight exceptional individuals and organizations across various domains. Through curated lists, profiles, and inspiring stories, I aim to celebrate outstanding achievements and inspire the next generation of champions. Join me in this journey.