Bigg Boss Season 8 started with all new fresh faces as usual and this time it was started in 21 September 2014 and continue till 3 January 2015 and this time the show was won by Gautam Gulati and this page contains the bigg boss season 8 winner, contestants name list, prize money details and much more.
The wait is over for the winner of Bigg Boss 8 everyone's favorite Gautam Gualti won the title of Bigg Boss 8. All the viewers can see the winning moment of Bigg Boss 8 tonight but however few images leaked on social networking sites of Gautam Gualti with the BB8 trophy.
You can find the images on Bigg Boss twitter account @BiggBossNews and @BiggBossLiveNews from where we get the information that Gautam Gulati declares the winner of the Bigg Boss season 8.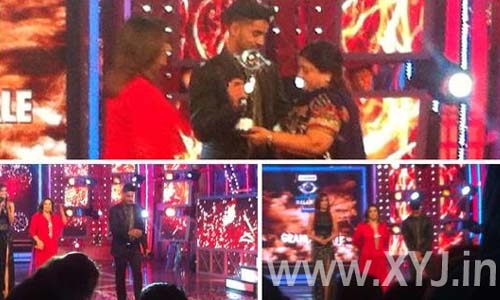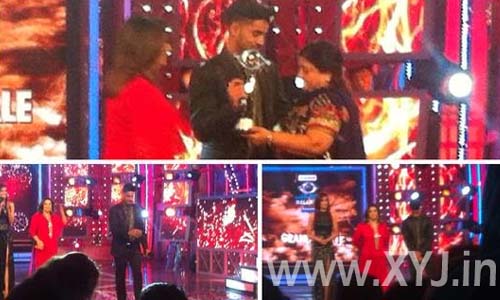 Gautam Gualti with Bigg Boss 8 Trophy and His Mother
The makers of reality show "Bigg Boss 8" have closed the voting lines with finale being just hours away. The winner of season 8 of the controversial reality show will be revealed on Saturday night, but the voting trend has already been released.
As all we know the winner of Bigg Boss 8 will be based on the audience votes and as per online sources, Gautam Gulati becomes the emerged winner of the most controversial reality TV show "Bigg Boss 8" with highest votes.
Instead of this Gautam Gualti is the first contestants and winner who got highest votes in the history of Bigg Boss until now.
Gautam Gualti Wins Bigg Boss Season 8 See Photo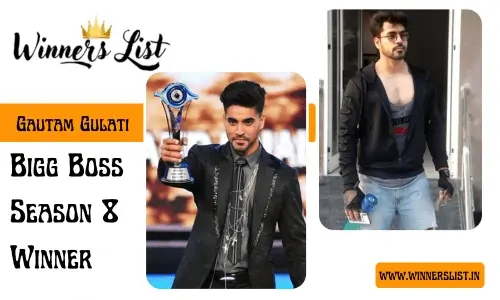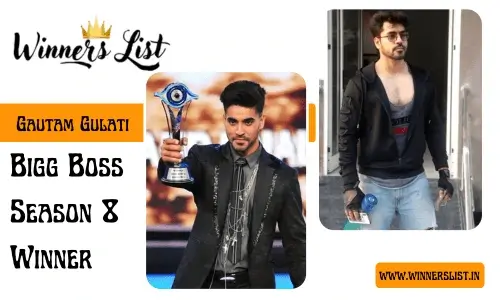 Karishma Tanna becomes the emerged as the first runner of the show and Pritam Singh has got the third highest votes.
Before announcing the finalists they have chance to take 25 lakh and quite the show and Pritam chose 25 Lakh and quit the show on grand finale night. So it's great news for all the Bigg Boss fans and off-course for Gauti fans.
Bigg Boss Season 8 Contestants Name List
Sr
Housemate
Day entered
Day exited
Result
1
Gautam
Day 1
Day 104
Winner
2
Karishma
Day 1
Day 104
1st Runner Up
3
Pritam
Day 1
Day 104
2nd Runner Up
4
Ali
Day 24
Day 104
Champion
5
Dimpy
Day 47
Day 104
Champion
6
Puneet
Day 1
Day 44
Ejected
Day 46
Day 104
Evicted
7
Sonali
Day 1
Day 7
Evicted
Day 11
Day 104
Evicted
8
Upen
Day 1
Day 101
Evicted
9
Praneet
Day 1
Day 90
Evicted
10
Diandra
Day 1
Day 84
Evicted
11
Renee
Day 47
Day 70
Evicted
12
Nigaar
Day 50
Day 63
Evicted
13
Aarya
Day 1
Day 56
Evicted
14
Sushant
Day 1
Day 49
Evicted
15
Minissha
Day 1
Day 42
Evicted
16
Soni
Day 1
Day 35
Evicted
17
Nataša
Day 1
Day 28
Evicted
18
Deepshikha
Day 1
Day 21
Evicted
19
Sukirti
Day 1
Day 14
Evicted
Finally the true lovers of Gauti help him to become the winner of Bigg Boss Season 8. So sing song all the fans of gauti "We Love We Love Gauti" ;). Share your comment and show your love here as well and must watch the winning moment tonight on Colors as well.
Also see: Bigg Boss Winner List of Season 1,2,3,4,5,6,7,8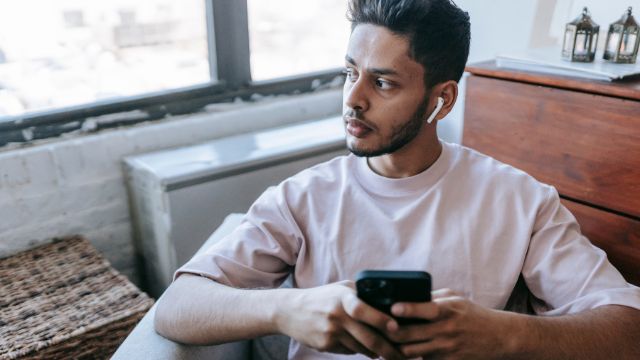 Hello, I'm Kapil Kumar, a seasoned SEO expert and blogger at WinnersList.in. My mission is to spotlight exceptional individuals and organizations across various domains. Through curated lists, profiles, and inspiring stories, I aim to celebrate outstanding achievements and inspire the next generation of champions. Join me in this journey.