IPL 2013 Season 6 Winner – The 2013 Indian Premier League season, abbreviated as IPL 6 or the IPL 2013 or the DLF IPL 2013 (owing to title sponsorship reasons), was the 6th season of the Indian Premier League, initiated by the Board of Control for Cricket in India (BCCI) in 2007 with the first season played in 2008. The tournament began on 3rd April and ended on 26th May 2013. Mumbai Indians were the winning team, beating defending champions Chennai Super Kings by 23 runs in the final.
In the 6th season of IPL total 9 teams were played as in the previous season there were 10 teams and the 2013 IPL team names are as follows:
IPL 2013 Season 6 Teams Name
Delhi Daredevils
Kolkata Knight Riders
Mumbai Indians
Chennai Super Kings
Royal Challengers Bangalore
Kings XI Punjab
Rajasthan Royals
Sunrisers Hyderabad
Pune Warriors India
As I said Mumbai Indians defeated the Chennai Super Kings the defending champion by 23 runs and the detail score and other important facts are mentioned below.
IPL 2013 Season 6 Mumbai Indian Winning Moment Picture / Image / Photo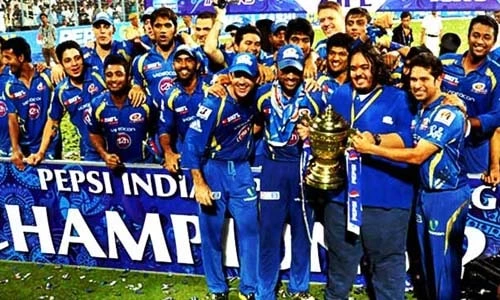 IPL 2013 Season 6 Final Match ScoreBoard
Mumbai Indians innings (20 overs maximum)
Player
Out
R
M
B
4s
6s
SR
DR Smith
lbw b Sharma
4
4
4
1
0
100
AP Tare
b Morkel
0
7
1
0
0
0
KD Karthik†
b Morris
21
45
26
3
0
80.76
RG Sharma*
c & b Morkel
2
10
5
0
0
40
AT Rayudu
b Bravo
37
56
36
4
0
102.77
KA Pollard
not out
60
55
32
7
3
187.5
Harbhajan Singh
c Hussey b Bravo
14
14
8
3
0
175
R Dhawan
run out (Sharma/Morris)
3
5
3
0
0
100
MG Johnson
c †Dhoni b Bravo
1
2
2
0
0
50
SL Malinga
c †Dhoni b Bravo
0
1
2
0
0
0
PP Ojha
not out
1
4
1
0
0
100
Extras
(lb 2, w 3)
5
Total
(9 wickets; 20 overs; 106 mins)
148
(7.40 runs per over)
Fall of wickets: 1-4 (Smith, 0.4 ov), 2-8 (Tare, 1.1 ov), 3-16 (Sharma, 3.2 ov), 4-52 (Karthik, 9.3 ov), 5-100 (Rayudu, 15.1 ov), 6-125 (Harbhajan Singh, 17.5 ov), 7-133 (Dhawan, 18.4 ov), 8-135 (Johnson, 19.1 ov), 9-135 (Malinga, 19.3 ov)
| | | | | | | | | |
| --- | --- | --- | --- | --- | --- | --- | --- | --- |
| Bowling | O | M | R | W | Econ | 0s | 4s | 6s |
| MM Sharma | 4 | 0 | 26 | 1 | 7 | 13 | 5 | 0 |
| JA Morkel | 3 | 0 | 12 | 2 | 4 | 12 | 2 | 0 |
| CH Morris | 4 | 0 | 25 | 1 | 6 | 9 | 2 | 0 |
| R Ashwin | 3 | 0 | 22 | 0 | 7 | 5 | 1 | 1 |
| RA Jadeja | 2 | 0 | 19 | 0 | 10 | 2 | 3 | 0 |
| DJ Bravo | 4 | 0 | 42 | 4 | 11 | 9 | 5 | 2 |
Chennai Super Kings innings (target: 149 runs from 20 overs)
Player
Out
R
M
B
4s
6s
SR
MEK Hussey
b Malinga
1
3
2
0
0
50
M Vijay
c Sharma b Johnson
18
42
20
2
0
90
SK Raina
c Smith b Malinga
0
1
1
0
0
0
S Badrinath
c †Karthik b Johnson
0
5
3
0
0
0
DJ Bravo
c Johnson b Dhawan
15
22
16
3
0
93.75
RA Jadeja
c Pollard b Harbhajan Singh
0
2
2
0
0
0
MS Dhoni*†
not out
63
73
45
3
5
140
JA Morkel
b Ojha
10
19
10
0
1
100
CH Morris
c †Karthik b Harbhajan Singh
0
2
1
0
0
0
R Ashwin
c sub (AR Patel) b Pollard
9
31
18
0
0
50
MM Sharma
not out
0
13
2
0
0
0
Extras
(lb 2, w 7)
9
Total
(9 wickets; 20 overs; 101 mins)
125
(6.25 runs per over)
Fall of wickets: 1-2 (Hussey, 0.4 ov), 2-2 (Raina, 0.5 ov), 3-3 (Badrinath, 1.4 ov), 4-35 (Bravo, 5.6 ov), 5-36 (Jadeja, 6.4 ov), 6-39 (Vijay, 7.3 ov), 7-57 (Morkel, 10.6 ov), 8-58 (Morris, 11.3 ov), 9-99 (Ashwin, 17.4 ov)
| | | | | | | | | |
| --- | --- | --- | --- | --- | --- | --- | --- | --- |
| Bowling | O | M | R | W | Econ | 0s | 4s | 6s |
| SL Malinga | 4 | 0 | 22 | 2 | 6 | 14 | 3 | 0 |
| MG Johnson | 4 | 0 | 19 | 2 | 5 | 14 | 2 | 0 |
| PP Ojha | 4 | 0 | 28 | 1 | 7 | 11 | 1 | 2 |
| R Dhawan | 1 | 0 | 6 | 1 | 6 | 3 | 1 | 0 |
| Harbhajan Singh | 3 | 0 | 14 | 2 | 5 | 11 | 0 | 1 |
| KA Pollard | 4 | 0 | 34 | 1 | 9 | 11 | 1 | 3 |
IPL 2013 Season 6 Important & Unknow Facts of Match
Toss – Mumbai Indians, who chose to bat
Series – Mumbai Indians won the 2013 Indian Premier League
Player of the match – KA Pollard (Mumbai Indians)
Player of the series – SR Watson
Umpires – HDPK Dharmasena (Sri Lanka) and SJA Taufel (Australia)
TV umpire – C Shamshuddin
Match referee – RS Madugalle (Sri Lanka)
Reserve umpire – K Srinath