Jhalak Dikhhla Jaa, India's most beloved celebrity dance reality show, has always been a celebration of talent, creativity, and entertainment. Season 7, which aired from 7th June 2014 to 20th September 2014, brought together a stellar cast of contestants, a distinguished panel of judges, and dynamic hosts for an unforgettable dance spectacle. With remarkable performances and fierce competition, this season left a lasting mark in the show's illustrious history.
Contestants and Performances
Season 7 featured a diverse and talented cast of celebrity contestants, each vying for the coveted title. Here is a list of the contestants who graced the Jhalak Dikhhla Jaa stage:
Ashish Sharma and Shampa Gopikrishna, winners on 20 September 2014
Karan Tacker and Elena/Bhawna, second place on 20 September 2014
Shakti Mohan and Tushar Kalia, third place on 20 September 2014
Mouni Roy and Punit Pathak, fourth place on 20 September 2014
Akshat Singh and Vaishnavi, eliminated on 13 September 2014
Sophie Choudry and Deepak Singh, eliminated on 30 August 2014
Tara Jean Popowich and Jack, eliminated on 23 August 2014
Kiku Sharda as Palak and Kruti Mahesh, eliminated on 16 August 2014
Malishka Mendonsa, and Diwakar, eliminated on 9 August 2014
Kushal Punjabi and Mohena, eliminated on 2 August 2014
Puja Banerjee and Rajit Dev, eliminated on 27 July 2014
Shanthakumaran Sreesanth and Sneha Kapoor, eliminated on 12 July 2014
Sukhwinder Singh and Bhawna Khanduja, eliminated on 6 July 2014
Kritika Kamra and Savio Barnes, eliminated on 29 June 2014
Purab Kohli and Mohena Kumari Singh, eliminated on 22 June 2014
VJ Andy and Bhavini Mishra, eliminated on 15 June 2014
These contestants brought their unique styles and boundless energy to the dance floor, captivating audiences with every performance.
Ashish Sharma: The Undisputed Champion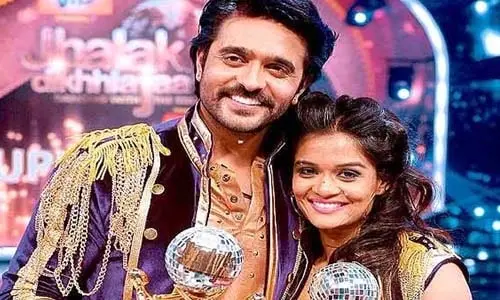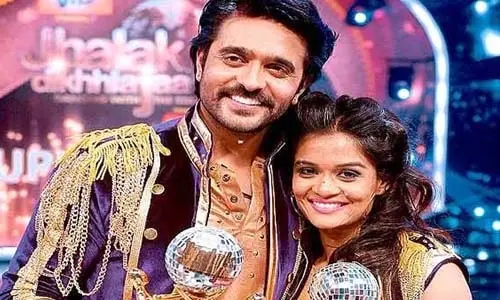 After weeks of intense competition, it was Ashish Sharma who emerged as the winner of Jhalak Dikhhla Jaa Season 7. Known for his acting prowess, Ashish displayed exceptional dancing skills throughout the season. His dedication, hard work, and innate flair for dance earned him the prestigious title, along with a cash prize of ₹50 lakhs.
Runner-up Karan Tacker's Stellar Journey
While Ashish Sharma claimed the title, Karan Tacker's journey on the show was nothing short of extraordinary. The versatile actor and host showcased a remarkable ability to adapt to various dance styles and consistently delivered captivating performances. Karan's charm, precision, and dedication to perfecting each routine earned him the runner-up position, solidifying his reputation as a talented entertainer.
The Dynamic Hosting Trio
Manish Paul, Drashti Dhami, and Ranvir Shorey took on the role of hosting Jhalak Dikhhla Jaa Season 7 with charisma and flair. Their natural camaraderie, witty banter, and infectious energy added an extra layer of entertainment to the show, making it a joy for viewers to tune in week after week. The hosts kept the atmosphere light-hearted yet spirited, creating a delightful viewing experience for the audience.
The Esteemed Judging Panel
The judging panel of Jhalak Dikhhla Jaa Season 7 played a crucial role in evaluating and guiding the contestants. The trio of Remo D'Souza, Madhuri Dixit, and Karan Johar brought their wealth of experience, expertise, and constructive criticism to the table. Their insightful critiques not only helped contestants refine their performances but also offered viewers a deeper appreciation for the art of dance.
Conclusion
Jhalak Dikhhla Jaa Season 7 was a testament to the exceptional talent and entertainment that the show has come to represent. From Ashish Sharma's well-deserved victory to Karan Tacker's mesmerizing performances, the season was filled with unforgettable moments. The esteemed judging panel, comprised of Remo D'Souza, Madhuri Dixit, and Karan Johar, provided invaluable guidance and feedback.
With hosts Manish Paul, Drashti Dhami, and Ranvir Shorey at the helm, the show became an unforgettable experience for both contestants and viewers. Jhalak Dikhhla Jaa Season 7 will always be remembered as a celebration of dance, talent, and entertainment that enchanted audiences and left an indelible mark on the world of Indian television.
Also see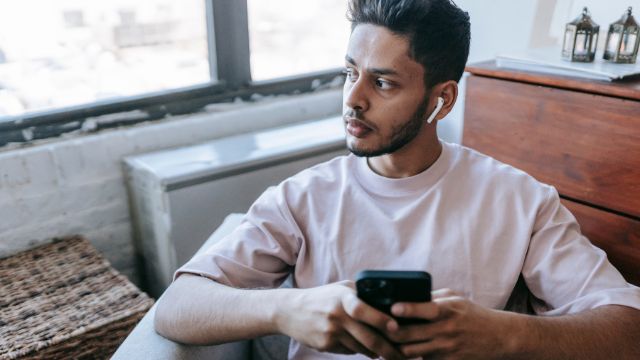 Hello, I'm Kapil Kumar, a seasoned SEO expert and blogger at WinnersList.in. My mission is to spotlight exceptional individuals and organizations across various domains. Through curated lists, profiles, and inspiring stories, I aim to celebrate outstanding achievements and inspire the next generation of champions. Join me in this journey.