MasterChef Celebrity Argentina is most popular cooking reality tv show in Argentina, which is produced by Boxfish TV for Telefe. The show has completed 3 successful seasons so far and in today's post we will in in-depth about the Celebrity Masterchef Argentina winners list seasons wise.
I am not going to tell you about the Format of celebrity masterchef Argentina show as you are well versed with its initial rounds like Mystery box, Creative challenges, pressure test, team test and elimination test etc. So without any more lets have a glance on masterchef celebrity winners list or in local language one can say Masterchef Celebrity Argentina Ganadores Lista.
MasterChef Celebrity Argentina Winners List
Here is the comprehensive list of masterchef celebrity Argentina from all seasons year and season wise with winners name & image along with that you will find the contestants and judges name as well. So, here we go.
Celebrity Masterchef Argentina 1 Winner – Claudia Villafañe (2020)
The season one of the show was airs on October 5, 2020 in an episode of MasterChef Argentina featuring well-known contestants will take place, according to Telefe, which also revealed that Santiago del Moro will be in charge of driving and influencer Flor Vigna will be in charge of presenting special content for social media. The chef Christophe Krywonis revealed that Damián Betular will be joining Donato De Santis and Germán Martitegui on the jury for this round in his place.
On September 26, it was announced that the reality show would begin airing on October 5 at 10:30 p.m. (GMT-3), Monday to Thursday, with eliminations taking place on Sundays at the same time. On Friday, October 2, it was confirmed that Marcelo Polino, an entertainment journalist, would be in charge of commenting on the culinary reality show on Florencia Pea's Flor de Equipo in the morning, Verónica Lozano's Cortá por Lozano in the afternoon, and Gerardo Rozn and Jésica Cirio's La Pea de Morfi on Sunday afternoons prior to the Elimination Gala.
It was revealed on October 12, 2020, that "Polaco" Cwirkaluk had tested positive for coronavirus, and it was confirmed on October 18 that he would be replaced by actress Natalie Pérez until he recovered. Soon after, the model Christian Sancho replaced the actress Victoria Xipolitakis as a positive.
The grand finale of the show was schedule as on January 18 and Claudia Villafañe becomes the emerge winner of Celebrity MasterChef season 1 she defeated Analía Franchín & El Polaco in the grand finale episode.
MasterChef Celebrity Argentina 2020 Contestants 
Contestant
Occupation
Status
Claudia Villafañe
Businesswoman and TV personality
Winner
Analía Franchín
TV panelist
Runner-up
El Polaco
Singer-songwriter
3rd Place
Sofía Pachano
Actress and dancer
4th Place
Vicky Xipolitakis
Model and vedette
5th Place
Belén Lucius
Influencer
6th Place
Leticia Siciliani
Actress
Quit
El Mono
Kapanga vocalist
11th Evicted
2nd Evicted
Federico Bal
Filmmaker and radio broadcaster
10th Evicted
Rocío Marengo
Model and TV personality
9th Evicted
6nd Evicted
El Turco
Former footballer and manager
8th Evicted
Boy Olmi
Filmmaker
7th Evicted
Iliana Calabró
Actress and comedian vedette
5th Evicted
Roberto Moldavsky
Comedian
4th Evicted
Patricia Sosa
Singer-songwriter
3rd Evicted
Nacho Sureda
Actor
1st Evicted
Celebrity Masterchef Argentina 2 Winner – Gastón Dalmau (2021)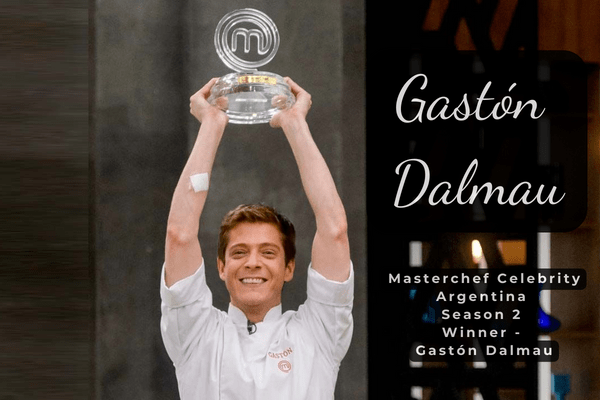 After getting the popularity in season 1 of the show they are back in 2021 with it's season 2 and this time the show was premiered from February 22, 2021.
This time total 15 contestants participated in the show and the grand finale was schedule in the month of June which was won by Gastón Dalmau while Georgina Barbarossa & Sol Pérez got the 2nd and 3rd place respectively. This young actor lift up the trophy and won the cash prize of $1,200,000.
MasterChef Celebrity Argentina 2021 Contestants 
Contestant
Occupation
Status
Gastón Dalmau
Actor
Winner
Georgina Barbarossa
TV host and comedian
Runner-up
Sol Pérez
Model and TV host
3rd Place
5th Evicted
Candela Vetrano
Actress and model
4th Place
Claudia Fontán
Actress and TV host
5th Place
María O'Donnell
Radio broadcaster and writer
15th Evicted
Alex Caniggia
Reality TV star
14th Evicted
Juanse
Ratones Paranoicos vocalist
13th Evicted
3rd Evicted
Dani La Chepi
Influencer
12th Evicted
Carmen Barbieri
Former vedette and theatre director
11th Evicted
Andrea Rincón
Model and vedette
10th Evicted
Daniel Aráoz
Actor and comedian
9th Evicted
7th Evicted
Hernán Montenegro
Former basketballer
8th Evicted
Fernando Carlos
Sports journalist
6th Evicted
Flavia Palmiero
TV host and actress
4th Evicted
CAE
Singer-songwriter
2nd Evicted
Mariano Dalla Libera
Former footballer and manager
1st Evicted
Celebrity Masterchef Argentina 3 Winner – Micaela Viciconte (2022)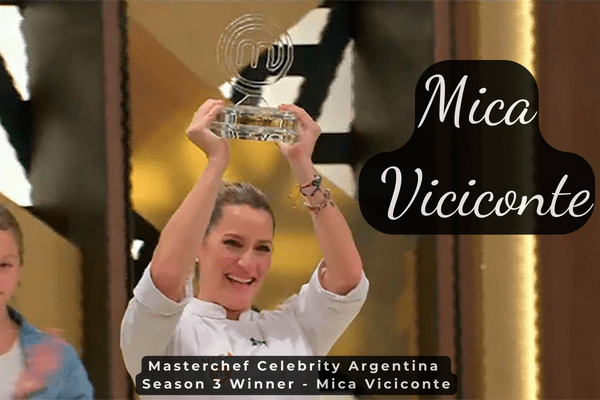 The third edition of the masterchef celebrity Argentina is backed in November 2021 with all new contestants and this time the number of contestants increased to 20. This season has the highest number of episodes total 111 episodes were telecast including the grand finale episode.
The grand finale of season 3 was schedule in April 2022 which was won by Micaela Viciconte she lift up the trophy and won the cash prize of  $1,500,000 instead of this she was the first contestants who won the one-year scholarship to study at the Mausi Sebess Institute of Gastronomy, she also surprised with the announcement of her pregnancy with Fabián Cubero.
MasterChef Celebrity Argentina 2022 Contestants 
Contestant
Occupation
Status
Micaela Viciconte
Sportswoman and TV personality
Winner
Tomás Fonzi
Actor
Runner-up
Juariu
Influencer and journalist
3rd Place
7th Evicted
Denise Dumas
Former model and TV host
4th Place
4th Evicted
María del Cerro
Actress and model
17th Evicted
Malena Guinzburg
Comedian and actress
16th Evicted
Exempt
Paula Pareto
Olympic judoka
Quit
Catherine Fulop
Actress
15th Evicted
Joaquín Levinton
Turf vocalist and musician
14th Evicted
Paulo Kablan
Police-article journalist
13th Evicted
Ernestina Pais
TV host
12th Evicted
Exempt
Luisa Albinoni
Actress and former vedette
11th Evicted
Barbie Vélez
Actress and model
10th Evicted
Exempt
Marcela Acuña
Boxer
9th Evicted
6th Evicted
Charlotte Caniggia
Reality TV star
8th Evicted
Tití Fernández
Sports journalist and writer
5th Evicted
Gastón Soffritti
Actor
3rd Evicted
Héctor Enrique
Former footballer
2nd Evicted
José Luis Gioia
Actor and comedian
1st Evicted
Sabrina Garciarena
Actress and model
Guest
Hope you find it worthful if have any query or suggestion just drop it in below comment box.
Source of contestant list:en.wikipedia.org/wiki/MasterChef_Celebrity_Argentina