Cricket is not only a gam in India it's a emotion and people of Indian worship their favourite players as we have seen this in past and it has different format of games in Cricket like  T20, ODI & Test etc. and here in this article we are going to explore the ODI full form in cricket.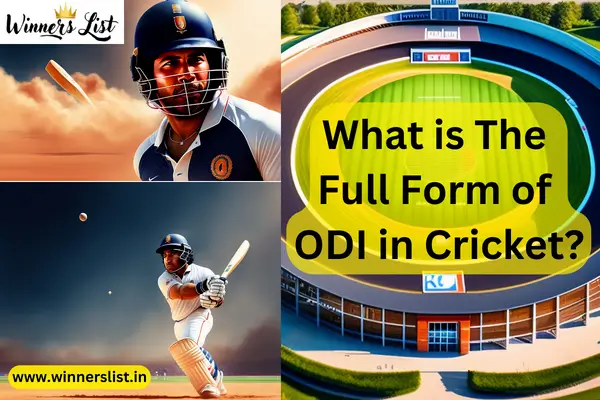 Here is the ODI Full Form in Cricket
The full form of ODI is One Day International or one can say ODI Stands for One Day International which is popular cricket format. As its name indicate One Day means limited overs cricket matches played between national teams.
The format of this game is emerged in the 1970s for the first time when one side of team play 50 overs and it's full of thrill, strategy and intensity of the sport within a concise time frame.
Well, whatever we speak about cricket is less but as we are also limited to speak in this article about what is the full form of ODI in cricket which already discussed now let's move to some important rules of ODI cricket.
Rules of ODI Cricket
Here are the some general rule in One Day International (ODI) Cricket which you must know.
Overs Limit: Each team is allotted a fixed number of overs to bat and bowl. In ODIs, this limit is usually set at 50 overs per side.
Fielding Restrictions: To encourage aggressive and entertaining cricket, certain fielding restrictions are in place. In the first 10 overs of an ODI, a maximum of two fielders are allowed outside the 30-yard circle (inner circle), which promotes more boundary-scoring opportunities. After the first 10 overs, the number of fielders allowed outside the circle increases.
Powerplays: The first 10 overs of an ODI are known as the mandatory powerplay. During this period, only two fielders are permitted outside the inner circle. There are also optional powerplays that the batting team can take between the 11th and 40th overs, allowing them to place more fielders outside the circle.
No Ball and Wide Ball: Like other formats of cricket, no balls and wide balls are penalized. A no ball can be called for several reasons, such as overstepping the bowling crease or delivering a full toss above waist height. A wide ball is called if the ball passes outside the batsman's reach on the off side or leg side.
Free Hits: If a bowler delivers a no ball by overstepping the crease, the following delivery is designated as a "free hit." This means the batsman cannot be dismissed off that delivery except through a run-out, hitting the ball twice, or obstructing the field.
Batting Powerplay (Obsolete): In the earlier versions of ODI rules, there was a concept called the "Batting Powerplay," where the batting team could choose a five-over period when fielding restrictions were even more stringent. However, this rule has been discontinued in favor of optional powerplays.
Umpire Decision Review System (DRS): DRS is commonly used in ODIs, allowing teams to challenge on-field decisions by the umpires. Teams are generally allowed a limited number of unsuccessful challenges per innings.
Bonus Points (Historical): In the past, bonus points were awarded to teams based on specific criteria, such as run rate or the margin of victory. However, this rule has been largely phased out in recent years.
Tied Matches and Super Overs: In case of a tie at the end of 50 overs, a Super Over can be played to determine the winner. Each team faces a single over of six deliveries, and the team with the highest total from that over is declared the winner.
Hope you find this piece of information worthful if have any query in mind just let us know via the below comment box and don't forget to share this with other.
Other full form in cricket