What is the full form of DNP? In today's post we are going to tell you what is the meaning & full form of DNP in Cricket and in Dream 11. If you are one of those who has played game on Dream 11 or made their teams on Dream 11 then you must have seen DNP message opposite the player's name. Well here we are going to tell you DNP Full Form both in Hindi & English with their meaning.
DNP Full Form in Cricket?
DNP mainly stands for "Did Not Play" in cricket or we can say the meaning of DNP is that a player is selected for a particular match but could not participated in the match whatever the reason is, it could be the team strategy, player injury, illness or team strategy and that's the reason player being marked as DNP.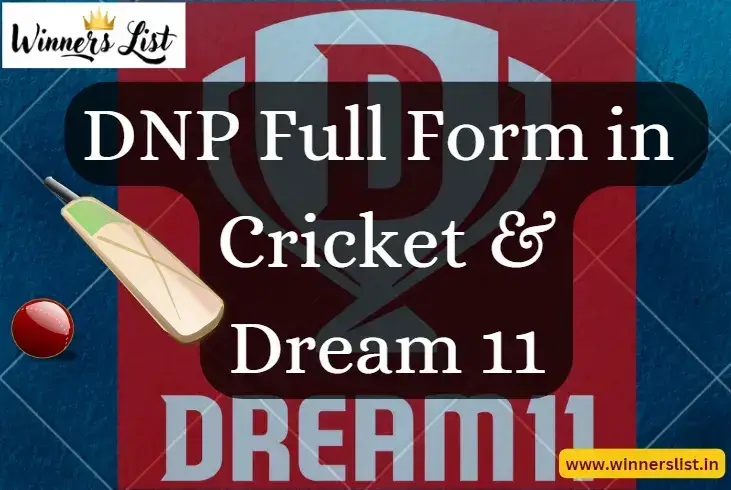 DNP Full Form in Dream 11?
The meaning of the DNP is still same while the full form of DNP in Dream 11 is "Did Not Participated" it is marked against those players who is not playing in the match however his name in top 15 player but not in top 11 player who are playing.
Full Form & Meaning Of DNP in Hindi
DNP की हिंदी में पूरी फॉर्म है "डिड नॉट प्ले" Did Not Play और इसका अर्थ होता है कि खिलाड़ी एक विशिष्ट मैच के दौरान खेलने वाले ग्यारह (XI) में शामिल था, लेकिन उस मैच में नहीं खेला। यानी कि उसने मैच के दौरान खेलने का मौका नहीं पाया। इसी कारण ड्रीम ११ में भी जो खिलाडी मैच में नहीं खेलते उनके नाम के आगे DNP लिखा होता है |
Other full form in cricket